ZCool – Chinese Behance You Haven't Heard Of, But In Vain
ZCool is an online service very similar to Behance, but aimed more at a Chinese audience. It was created already in 2006 and during this time has gathered 82+ million designers, photographers, illustrators, artists and creative people (from the description on the site itself).
So he s been online for 13 years now, why have I never heard of him?
Most likely, we have not heard about it simply because it was not only designed for the audience of the Middle Kingdom, but it was also completely in Chinese. I don't know about you, but I'm not very good with Chinese :). Quite recently (when I won t say exactly, I don t know) it was partially translated into English (but more on that later), which allowed non-Chinese audiences to get access there.
Which is exactly what I did. Here and further I will talk about the structure of the site itself, its pros and cons.
…
Don t get me wrong, I like Behance, but lately I ve become somewhat disappointed with this platform. From constant comments "Cool project! Check out my portfolio! " (though they seem to have already coped with this spam), falling activity indicators (with my 8800 followers, I sometimes get only 10% views on a not-so-bad project), a strange reward system (no, I m not that dissatisfied, I myself 31 awards, but some of the latest awarded projects cause, to say the least, surprise), to frank cheating and buying followers, likes.
I somehow wanted to let fresh blood flow, see other platforms, other markets. Dribbble, UP, 500 px, Cargo and so on (I m not talking about revision, it got stuck in 2000), I use some, but they are niche, whereas Behance is a multidisciplinary platform. On it you can upload a short drone film and a presentation of the application design.
ZCool is precisely this multidisciplinary platform in another market and even mentality. Plus, of course, the Asian region, as the fastest growing, can bring interesting prospects.
At the moment, you can register in ZCool from 23 countries (no surprise, there are many Asian countries, of course, but there are Australia, England, USA and Russia). Registration on the site by SMS code is quite simple if you know a little English.

I recommend using Google Chrome with Google Translate enabled, as although the site is translated into English, many popups and pages are completely in Chinese. And as a bonus, you can see how Google translates all Chinese usernames into English … it s priceless, believe me 🙂
The site ideology is similar to Behance. ZCool has Home page, there are marked recommended projects, new projects and those that are on the way. Such a general top ZCool.
Discover the page with Home page recommendations and Editor s choice is essentially similar to Behance TOP. Projects that got there are marked with a red icon with a flame.
On this page, you can filter projects by category, city, and equipment used, the presence of video in the project, and so on.
Page City allows you to see projects, designers and works sorted by city. As you can see, some cities are more popular than others – we need to fix the situation 🙂
Page Jobs is intended for publishing and searching for a job, creating a resume from your uploaded works. I have yet to explore this tab, but it seems to work similarly to Working in Dribbble.
In the tab Events there are many types of competitions, events, online and offline activities. If you re looking for adventure, it s worth taking a look at the design contests section. You can even organize an event yourself.
Tab with a cryptic name HellorfIs a stock site, a universal platform for trading visual content, including images, videos, music, fonts. Similar to Adobe Stock.

This is what I will be studying more actively, the next step 🙂
The last section on the top menu is Courses … The courses, like the Hellorf section, are not a "native" section of the ZCool site, but some kind of subsidiary. For an obvious reason I didn t spend much time there, as … Chinese is not my forte 🙂
There is an interesting section called TOP (hidden behind a 3-dot menu •••). It will show you the top 100 projects of the past week plus a weekly story. One of my projects was in the first place, straight z cool 🙂

You can filter the search area in a specific section, and you will be shown the TOP 10 projects of the category.

In addition, there is a TOP rating of articles, since you can essentially upload both projects and articles in ZCool (I will talk about this further).
ZСool marks works according to its own algorithm. He looks, the number of views, recommendations, adding to favorites, sharing and recommendations of the ZСool community, but is not limited only to this (from the description on the site)
…

Under ••• there is also a section Designer and Team (analogous to Dribbble), where you can see the best and filter them by category or city. The more Popularity you have on your profile, the better your position at the top of the list. I m not quite sure yet how the popularity algorithm works.
Now for the fun part – the profile
It is slightly different from Behance. You have followers and those you follow, your Popularity figure and credits. Popularity is basically your "position" among other creative people. But loans … to be honest, I m not sure what they are, in general. There is a page that explains how to get credits / points, but there is no information on what they are for.

Then there is a section about information in the profile, there are fairly standard fields, almost the same as on Behance.
There are also tabs in the profile – Life (while the tab is empty, maybe if I take part in the event, it will be shown here), Timeline – month and year of registration and projects in the form of a timeline, tab Collectionsfor your collections and Recommendrecommended projects or what you liked.
So what can you download to ZCool?
You can download either projector article…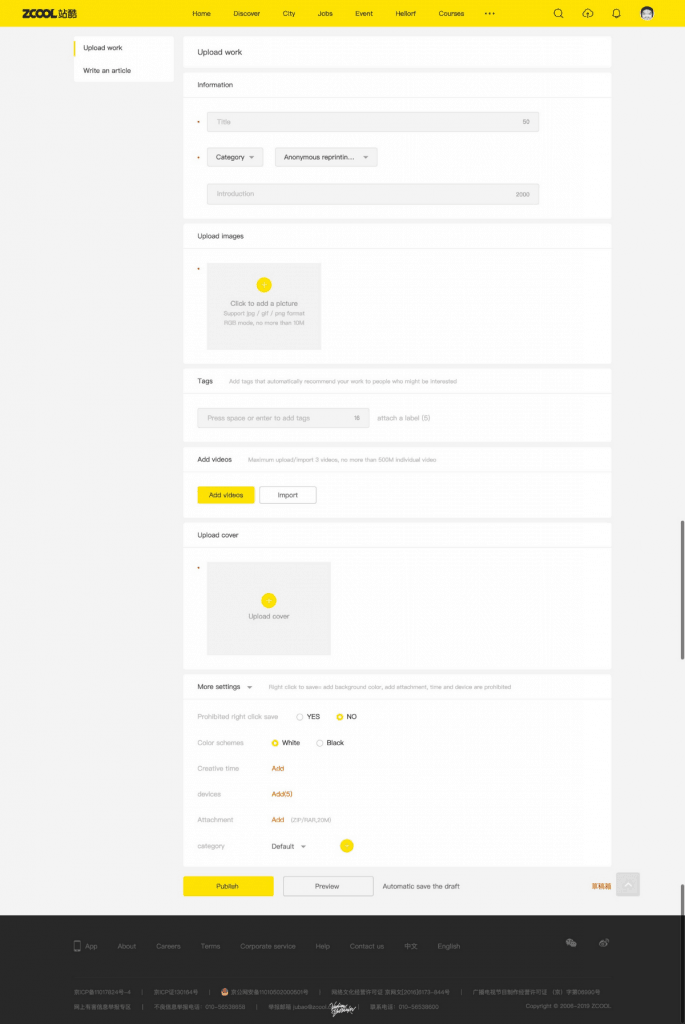 Projects
While you may see familiar fields in the project uploads section, it doesn t have the variety of tools to create a beautiful project that Behance does. You can upload images and videos. And the video will always be at the top of the project.
I was unable to download the link to Vimeo or Youtube (due to the Chinese firewall, I suppose). They only support the video sites Yuku and Tencent. All the videos I downloaded were in .mp4 format.
…

Also, when loading images, there will be a gap of several pixels between them, which you cannot avoid. And on top of that, there are only 2 background colors, white and black. So if you want your project to look pretty, get ready to donate.

It took me about 5 minutes to modify an old Behance project, export it as several separate JPEGs and upload them to ZCool.

You can also attach the zip file to the project. It s a good idea if you re promoting free digital products.
This is what the video file looks like on top of the project.

The project cover and the project files themselves are very similar in size to Behance, so you don t need to tweak them.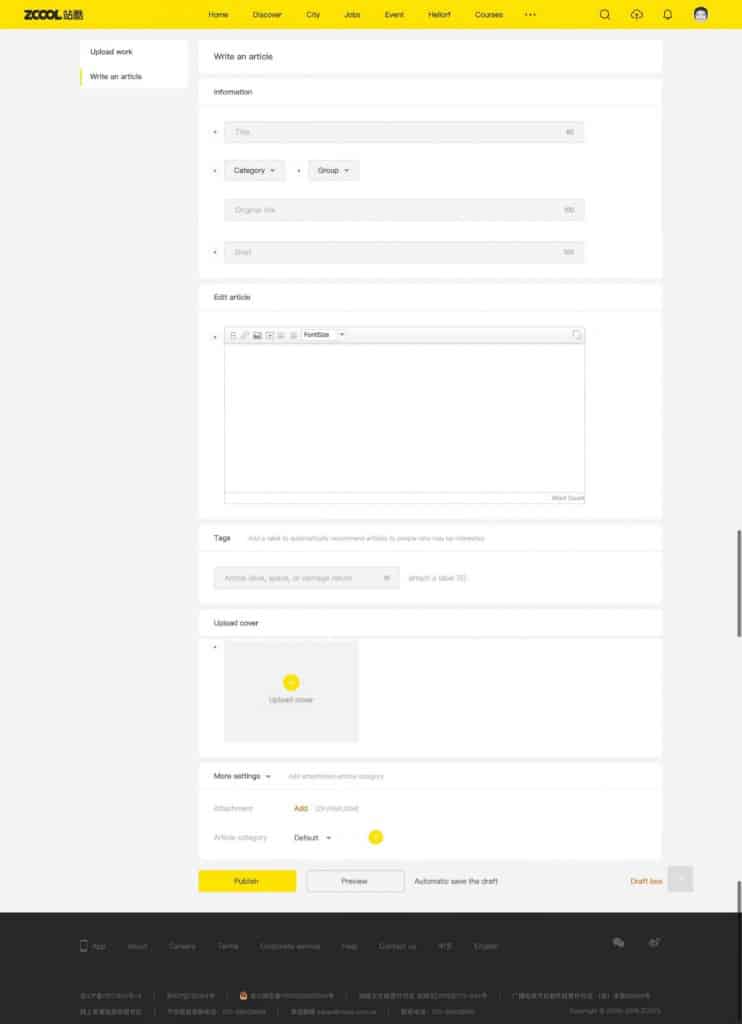 Articles
Section articles , is more devoted to writing posts with the ability to add videos and images directly in a text editor. I suppose you can get creative there too, but personally I prefer the "old" way to create my design in PS and upload the full design work as a JPEG. I just would like ZCool to give the ability to insert videos where I want, and not just shove them from above.
Project Page
You can see if your project was in the top picks of the week and if it is recommended.
ZCool also has an app foriOS and Androidbut it hasn t been translated yet and everything is in Chinese.
Outcome
So, summing up. In just one month, I got more reaction to my projects than Behance. Got a new audience and a new market. Several people have already contacted me with different proposals.

I ve been on Behance for 8 years now, and I have 8800 subscribers (about 1100 a year), and in 34 days I got 2700+ subscribers, as well as a recommended photographer badge (I don t know what this is, but apparently not bad) by publishing only 4 projects … I do not call for anything and do not draw conclusions, I just point out the difference between the platforms, using my example.
Now, as a final touch, the pros and cons of the platform:
Pros:
New audience
New market
Many projects are aimed at a Chinese audience, it is interesting to see the "other world" and perhaps even be inspired
Better engagement (recommendations, comments, likes)
I have already received several suggestions from interested users
Expanding audience reach
Easily upload an existing project to this platform
There are not many foreigners / competition yet and you can easily stake your place
Minuses:
Slow download speed
Not everyone speaks English, so communication is sometimes difficult
Limited project presentation tools
The project goes first for approval and it takes some time (there are no exact numbers)
Limited website translation
No international presence (however, this can also be a plus, as I said before
So.Do I recommend registering there? Definitely yes… Do I think that there will be success, clients and entry into a new market immediately?maybe, time will tell, but I think it s not right to miss the opportunity to spend the extra 30 minutes downloading an existing project for Behance to this resource …

Source: DesignKabak
…