How to record video from your computer screen: 5 free programs
Need to record a presentation at work or want to share your favorite game walkthrough with your friends? To record images from your computer, you need a dedicated application. We have prepared an overview of the five most popular and easy-to-learn programs.
After reading this article to the end, you will learn how to record a video from a computer screen with sound and which utility is better to use for this.
Screen Camera
Screen Camera is an application with a user-friendly interface and wide functionality. It will help you to independently record an image from a laptop or computer screen without reading long instructions and unnecessary effort. To understand the program, it will take only a few minutes from the moment of the first launch.
Capturing images and sound is easy to set up before you start. You can record the entire screen, select a specific fragment or a separate window. Also, while recording, you can capture system sounds and voice from the microphone.
The big advantage of this software is the ability to immediately view and edit the footage. You can trim unnecessary fragments or add music, screensaver and titles, choosing from the ready-made ones or customizing everything yourself. After editing is complete, you will be prompted to share the file online, save it to your computer, or burn it to disk.
You can download Screen Camera is free by this link.
How to Record Screen Video in On-Screen Camera
• Download the program and complete the installation;
• Adjust the parameters for capturing images and sound, record video;
• Start editing or add music;
• Download the resulting file to your PC, burn it to DVD or share it on the Internet.
OBS Studio
OBS Studio is a specialized program for recording streaming video from the screen simultaneously with streaming. It is open source and available on all modern operating systems such as Windows 10, the latest macOS and Linux. The application is popular with professional gamers and is quite difficult to master for the average user.
Recording videos in OBS Studio
• Download the distribution kit and install
• Perform mandatory configuration at first start
• Adjust capture sources of picture and sound
• Record and save the file
Movavi Screen Capture
Movavi Screen Capture provides all the basic functions for capturing various types of screen images. Additional functions include a built-in editor of the recorded material. The utility is compatible with all versions of Windows, starting with Windows 7, and is paid. The free version has a number of limitations, such as the lack of the ability to record system sound and a watermark on the recorded video.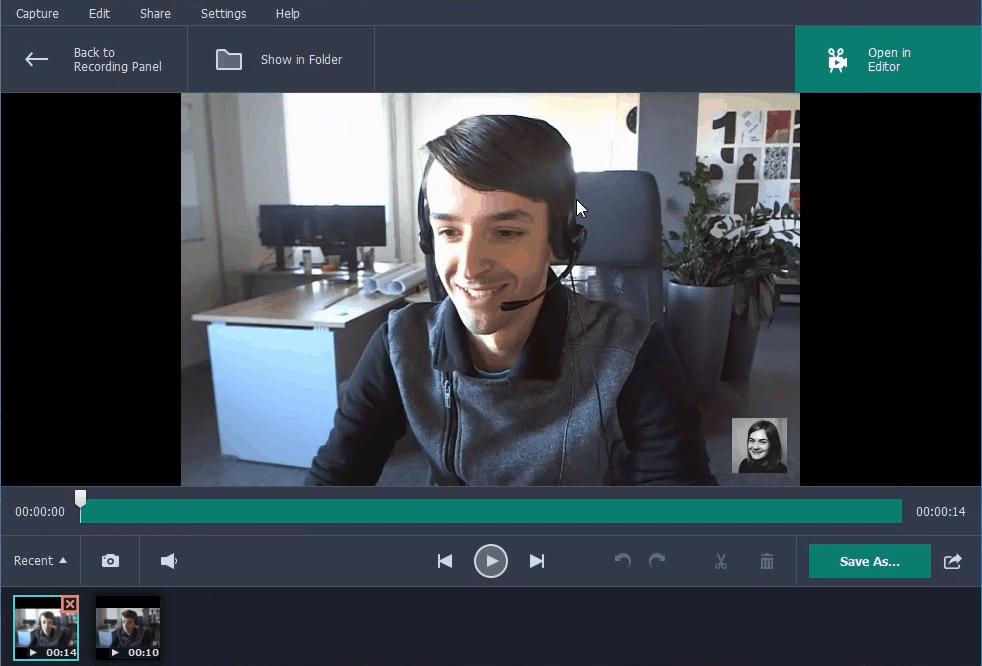 Screen capture in Movavi Screen Capture
• Download the installation file from the link above, complete the installation process
• Customize the program for your first recording
• Take advantage of basic editing functions
• Save the result in a suitable format
Free Screen Recorder
Free Screen Recorder from ThunderSoft is a compact program that records video from your computer screen. Its main advantages are that it is simple and free. The built-in functionality does not allow editing the recorded material; there is also no possibility of recording actions from the keyboard. In addition, the instructions for using this software are poorly localized into Russian, and the interface is only available in English. The installation file weighs very little, so you can download it even with poor internet.
Working in Free Screen Recorder
• Download and installation will not take long
• Before starting recording, it is easy to adjust its parameters
• You can start and stop work using hot buttons
• File import is available in several formats to choose from
Xbox Game Bar
Xbox Game Bar is a software built into the Windows operating system that allows you to capture screen images with sound or take screenshots. The footage is immediately saved to the selected folder. For Windows users, this method is convenient because the software is already in the operating system and does not require any additional installations. The main drawback is that, like most other built-in utilities, the functionality of this application has only basic functions and does not have the ability to edit.
You can download the software from the official Microsoft website.
How to use the Xbox Game Bar
• Press Win + G to start
• Customize capture area and sound
• To start and stop recording, use the keyboard shortcut Win + Alt + R
• Set the folder to save the file
Conclusion and editorial opinion
All the listed programs provide good solutions for capturing images from a computer. But some of them are too complex for a beginner, and the last two utilities, although they are the easiest to use, do not have the richest functionality. It is sufficient only for basic image capture needs; further editing of the resulting file is not supported.
The On-Screen Camera application stands out favorably against their background, since, with a similar usability and simplicity, it has more advanced functionality that allows you to edit video and add music or make voiceovers for a video shot. Try all these possibilities for yourself right now. Download Screen Camera from the official website and start your first recording!
…