How to avoid falling prey to a designer swindler: 8 most popular ways to cheat
How do designers cheat their customers? How not to overpay for work and not be left with a nose?
It is not customary to talk about this, but working with designers does not always go smoothly. In this article, we have collected the bitter experience of our friends and bright cases from the Internet to tell you about the most popular schemes for deceiving their clients by designers. Read and learn from other people s experience so as not to repeat the mistakes of other customers.
At the end of the article, we will share a checklist for quickly checking the decency of an unfamiliar designer. Go.
Perhaps the most common situation when working with designers is their disappearance after receiving an advance payment. This is especially true of ordering work from a freelancer.
The contractor can either completely hide with your money, or for some time feed you with promises and drag out the work until you yourself refuse his services. In any case, you lose money, nerves and time. Here is a clear confirmation of this:
An example of a feedback about a missing designer from a freelance exchange
And another story sent to us
How to avoid this situation
1) Check the designer before placing an order with him. The best way to check for reliability is feedback from previous customers. The most ideal option if your good friend advises you.
2) Don t pay for all the work at once, break it down into stages. Then your contractor will be interested in completing the work to the end and receiving the entire promised amount. And you, even if you lose, then only part of the money, and not all at once.
3) Ask the designer of your choice if he will be ready to return the prepayment in case of non-completion of the work. Please discuss such cases in advance. Promises, of course, can be empty. But on the other hand, you can immediately refuse those designers who declare that the money will not be returned under any circumstances.
4) When working with freelancers, it is better to play it safe and transfer money through special services of secure transactions, which are often offered by freelance sites. Of course, you will have to pay for this, but the amount will be much less than the one that you risk giving to the swindler.
Case number 2 When a designer appropriates someone else s work
Customers often forget to check the authorship of a designer s work. What if the work in the portfolio belongs to a completely different person? You can easily fall into the trap of a pseudo designer who takes over someone else s profile.
Marketer Irina Kustova shared with us her story about just such a deception:
This is how you can "hit" without suspecting anything
How to avoid this situation:
1) Any rush should alert you. All swindlers take advantage of the fact that a decision must be made quickly. Do not be lazy to open an image search in Google and look for the original source of works:

How to find the original image in Google Chrome
If the picture is found on different resources and under different authorship, then this should at least make you think.
2) If you liked the portfolio of a studio, then it is better to look for its contacts on the official website, and not through other accounts on freelance exchanges. It is much more difficult to fake a website.
3) Feel free to ask the contractor to take a look at his work in action. Check out a few of the sites he designed for and see who is listed as a developer in the footer. You can also ask the site owner who did the design for him. The previous customer will not only tell you the truth about the author, but also be able to share a review of his work.
Case No. 3 When the result of the work does not match the work from the portfolio
A portfolio is a designer s pride. There he places his most outstanding works. This means that you will not see all of his masterpieces. This is where a situation may arise when the result does not meet your expectations. You looked at one quality of work, and then suddenly you get a layout that has nothing to do with them at all.
Here s a story for you from Ruslan Volchkov, director of a balcony repair company:
An example of how a portfolio may not match the level of work
How to avoid this situation:
1) Take an interest in the designer s experience and look at the size of the portfolio. If you see just a couple of layouts from a designer with many years of experience, then most likely he selected the best. Do not take such works as a guideline. Always look at the average quality of the designer s work.
2) Ask to see the latest work, study as many layouts as possible in order to understand for yourself the average quality of his work.
Case # 4 When a designer hands over your order for execution to other contractors
This happens often, especially if you are negotiating with a famous designer. He has a lot of orders, but not enough time and not enough for everyone. So he has to transfer your order to his students or other contractors. And it seems like there is nothing like that here. Better to pass it on than to do it in haste But the trouble is that the quality of work sometimes suffers from this.
Leonid Yuryevich, director of a construction equipment rental company, just got into this story:

An example of when a student does a job and you don t know
How to avoid this situation:
1) It is best to discuss this issue first. If you like a specific author of works, then agree that he will be engaged in your project. Always ask to keep you informed of any assignments and keep an eye on how the work is progressing.
2) If you initially do not like the way a designer works, it is better to say about it right away. Perhaps you need to re-discuss the working style with the designer. Sometimes it is very difficult for a customer to find a common language with a contractor. That is why it is much better to order a design in a studio that employs a whole team of specialists.
For example, if we have a similar situation, we select another contractor for the customer. Usually the client is satisfied, because another designer may evaluate an assignment with fresh thoughts and approach it with a new idea.
The designers themselves suffer from unsuccessful delegation, here s an example for you:

The flip side of delegation – designers cry too
Case number 5 When a designer performs an assignment irresponsibly and violates deadlines
Orders from designers are unpredictable and unstable thing. Either they do not exist at all, then they fall like snow on their head. Therefore, designers often agree to complete the work in one time, and in the end they realize that they overestimated their strengths. And then there are at least two options for the development of events.
Option one: the designer still manages to invest in the deadline and, over the last night, completes the work that had been planned for weeks. At the same time, the quality naturally leaves much to be desired. Option two: the designer feeds you "breakfasts", stalling for time and shaking your nerves.
And here is one such real-life example: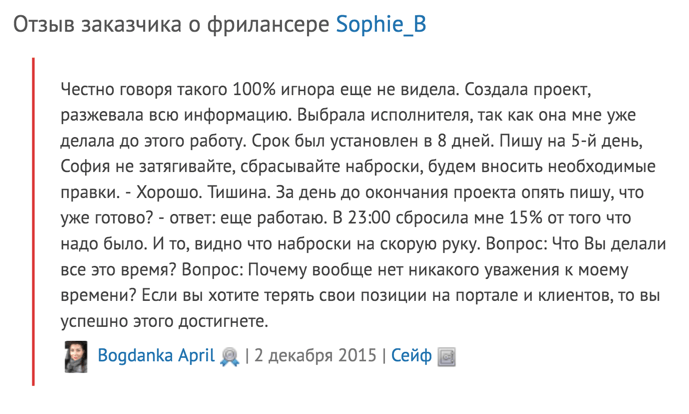 …