How I became a middle in a month. Review of the Design Intensive by Misha Rozov (in pictures)
Booking
The back ones were like this: here s the Booking page for you, choose your ref for layout, ref for illustration and put together the design. At first, I thought that after working on the Porsche, I would do everything quickly and would not be stupid. LIKE NOT SO!
This page needed to be redone
What really slowed me down in this part is the choice of refs. I thought in the following way: "I will engage in brutalism, I will stand out against the general background." As I understood already at the end of the intensive, this intention of mine sometimes greatly interferes with making good products.
First set of refs
My attempts to do something sane
On this assignment, many began to slip, which calmed me down a bit. It s nice to know that you re not alone. Therefore, we decided that two lessons would be allocated for one homework, you do not have time in the deadline – you will not receive comments from Misha, but you can continue to do it for your pleasure. I missed the first deadline, so I had 4 more days to do something. But what caused me wild pain was the level of (simple spasm) creativity that other participants show. I looked at their layouts and realized that in a century I would not have thought of such solutions. In general, pain and oppression.
After the fourth lesson, which was devoted to the analysis of booking and 3D grid work, I realized that the bottleneck of my work is a ref. So I went to Behans to collect more refs. After about 4 hours of research, something sane turned out.
Second set of refs
It helped a lot. I rebuilt the layout, changed the grid and interface elements, left it black (because ?)
Ok, but somehow empty
The next problem is illustrations. My eternal pain. I, like many others, can take a photo and use it to sketch an illustration. Even more, I can sketch with a pencil and use it to illustrate, but 1. it gives me a lot of pain 2. it will take a huge amount of time.
But there is no escape from the task, so I decided to overcome pain to start drawing.
After 5 hours, I realized that I had little time, and I would spend another 10 hours on this illustration. Therefore, I decided to look for alternative options. The solution came from previous assignments! I thought: "Why not cram isomerism into the model, with which things are much better for me?"
Better, but still needs an illustration on the first screen
The illustrations were still missing. I decided to throw in a patch to see how it might look. At that moment Misha came to my figma and left comments.
yelled out loud from these comments ?
Here Misha showed how you can put existing elements to make it feel good and what colors to take for illustration
All this happened on the day of delivery, so I strained myself, found a simple ref for illustration, and put together the final version of the layout.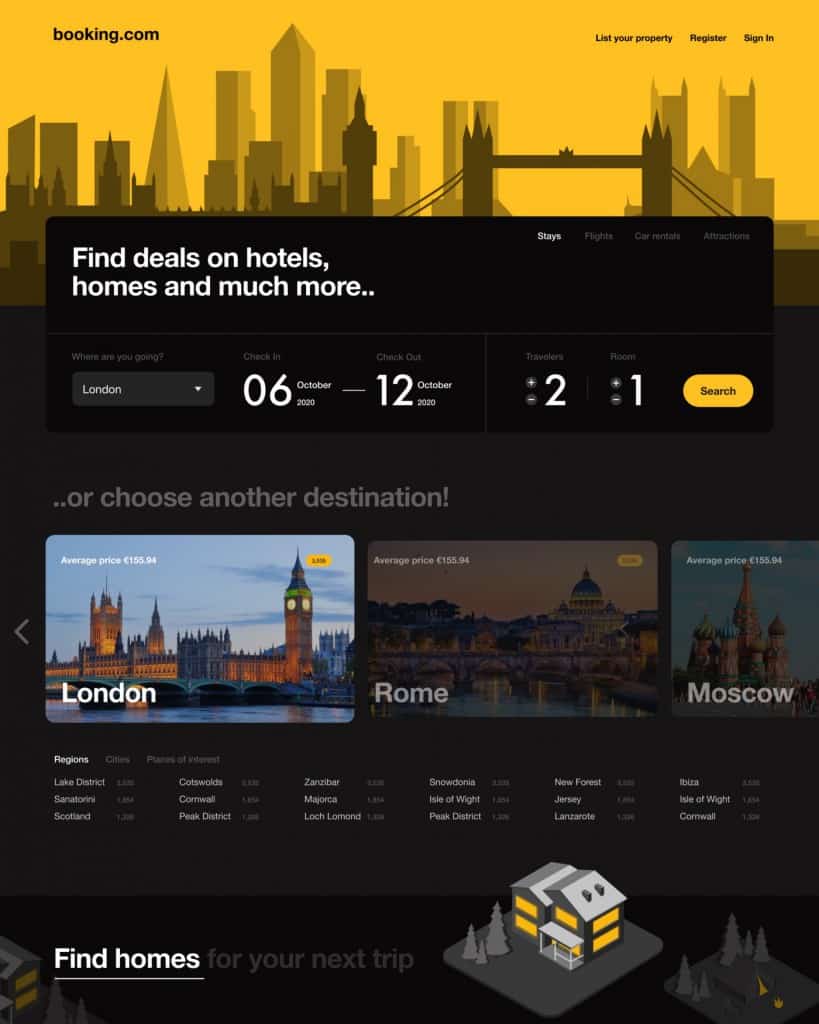 Final option
3D Icons
The fifth lesson was devoted to 3D icons. Misha showed how to use Cinema 4d. The homework was like this: here s a ref, you need to make icons in tride so that there are nice materials and geometry.
Ref for icons
Compared to others, I was a little lucky. On New Year s holidays, I got carried away with the blue tutorials and already knew how to collect basic geometry and use the gimmicks from the mograph. Well, I have been friends with animation for a long time.
The result of a weekly fuss with tutors
My path of suffering continued. Because making good icons is not easy. The same light needs to be adjusted, and the geometry is good, and the material is pleasant to create. In general, there is a lot of worries, time is, as always, in short supply. In my case, the whole intensive is a big time trouble, when you have to have time to do well with a lack of time to think over some super chips.
In the first approach, I collected some game.
At one point, there was not enough time to analyze the work in the classroom + Cinema is not figma, you can t work online there. Therefore, Misha began recording screencasts with feedback.
What I understood important at this stage is that working in blue is always an experiment. You have a task and a set of hypotheses, and then you just try to apply them and see what happens. Changed color intensity – render, changed bump – still render; and so on until the head sounds: "KAAAIF".
At one point, your experiments lead you to such a result, and through it you already see the outlines of the rest of the concept.
In the end, my trial and error method led me to this result:
Service / What do you know about pain?
The task of choosing a service and coming up with an idea for it came to us when some of them had not yet booked, and icons had just begun to be made.
The service work was divided into stages:
First, we choose a service from the list of possible ones, or choose at our discretion and agree on the choice;
Then we make a user flow map (cjm in other words). Here we invent some kind of pain (preferably stupid and absurd) and describe the screens of the service and they help the user to eliminate his pain;
Making a prototype of the service. Stupidly a rough draft with functionality (I came to this idea too late);
We design the service. With illustrations, tridehs and icons;
Making adaptive for mobile phones;
In the end, let s animate the whole thing
Link to a detailed description of the assignment.
Let me remind you that some tasks appeared earlier than others ended. Therefore, I completed the icons and then switched to the service. I selected several applicants from the list of services and began to throw ideas for a user story. I decided that I would choose the service with the coolest idea.
The basic principle of inventing stories was to abandon the reality and adequacy of "pain" and ask the question "What if ..?" There was no particular difficulty here, so I threw a story in just an hour of thought.
For some participants, this stage caused some kind of unexpected trouble for me.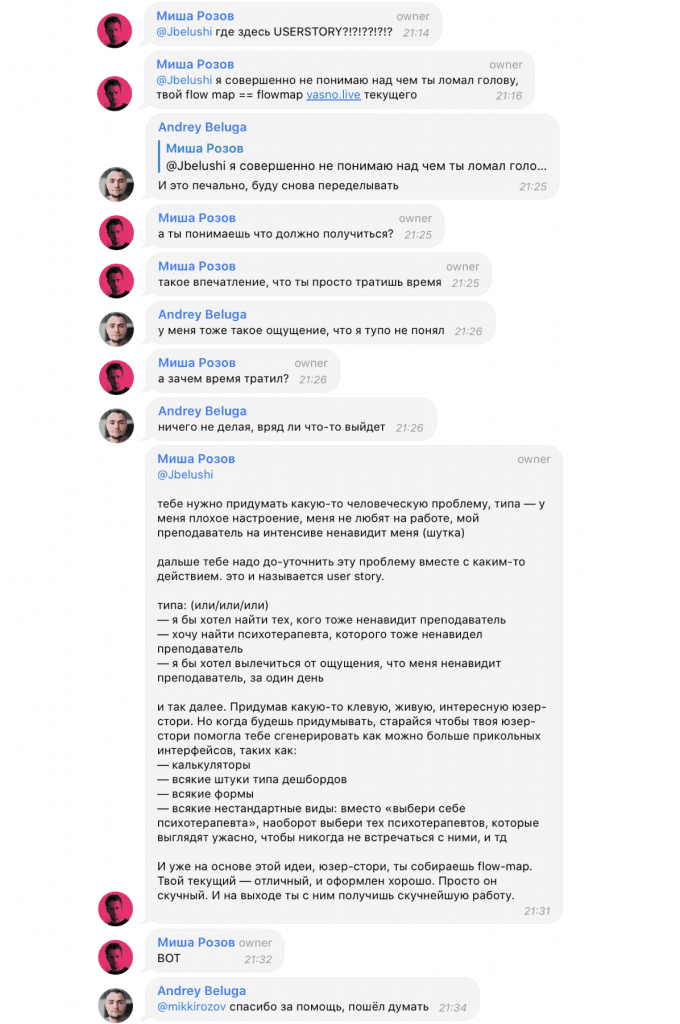 From this explanation of the problem, I shouted notoriously. By the way, Andrey did a cool job, so the torment was not in vain. I think he will forgive me for sharing this excerpt of correspondence: 3
As a result, I chose the user story: "I want to post my profile on the service, and not look for anything." It was the idea to attach a tinder mechanic to the Locals service. They say you swipe apartments, like, and so on. I added a user flow pretty quickly. Subsequently, he became much smaller.
Last iteration
In terms of the speed of work, it seemed to me that I would do the service pretty quickly and get high. But again, I was wrong. (It seems from my story you can conclude that I am either infantile or an optimist, perhaps both at once).
I got stuck on the prototype very much. It took me 40 hours to throw 6 screens. This is a lot for such a task! I was constantly inventing some kind of crap, then I showed it to Misha and he harassed me. As it turned out later, it was necessary to "STUPIDLY MAKE A PROTOTYPE", and I tried to add "design" to it.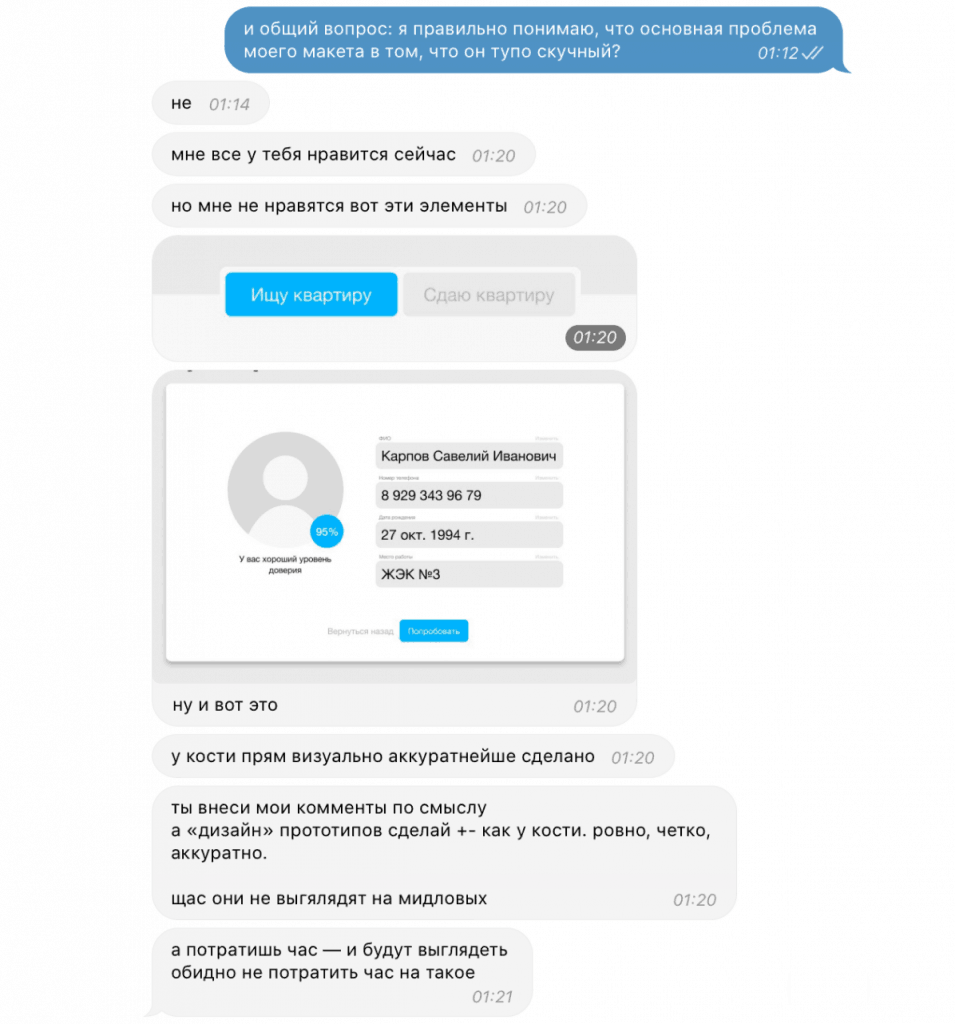 At one point I began to think that everything was bad
"Juniors remain juniors because they piss!"
…
Special attention should be paid to the moment of motivation, which I realized by the middle of the intensive. She is such, purely status – "Not to be a Jun". Not being a june, in my understanding, is not mowing, not asking for help over trifles, not being blunt, and of course not pissing to use new tools. Regarding "don t piss", at one of the first classes Misha dropped the following phrase: "Juniors remain juniors because they piss to grow and use new tools in their work".
Approximately at the 2nd lesson, when we passed the grid, Misha showed the trump work, where the elements were not neatly aligned and said: "I see this, it s just June!" Then this phrase was used even more often. Based on her motives, one of the participants even made a sticker pack.
These are, of course, inside, and many will not understand, but I still laugh. https://readymag.com/smodel/1816300/
After two iterations of edits, I finished my service prototype. I have 5 days left for the rest of the stages.
Final prototype
I mobilized, pulled myself together and went to herach. I will not say otherwise. In a couple of hours I found references, approved and went to do it.
The turning point of the entire KMK intensive
When the geometric ref was approved for me, my eyes lit up. What an opportunity to make a service with limited expressiveness tools, uuuuuu.
One of the last lessons was about 3d typography. Of course, everyone was not up to it, but I spent the evening after class to have fun with it.
At that time, I had just come to Russia ?? and everyone ran to buy buckwheat
On Sunday evening, I had the design of the service ready, but the threedehi for it, adaptive and animation were not ready. At 10 in the morning Misha unloaded our work to himself, and that s it, nothing can be added. I was hoping that if I had time to make the tride in 3 hours, then there would be enough time for animation with adaptive (and still I m a naive person, yeah).
As a result, I spent about 6 hours on tridehi, and the rest of the time I tried to make adaptive. At first, my works did not come to me, but after a while, I understand that the models turned out to be fun!
Completely on my service, you can look at the Behanse.
The intensive ended there.
conclusions
Intensive turned out to be my first experience of online education. And it was a rewarding experience. It seems to me that the best comparison for this experience is intense training. For a whole month you live in tension at the limit of your capabilities. But after this workout is over, you feel 10 times stronger. If you ve ever done CrossFit, you will understand me. And that s why this format isn t for everyone. Someone will not have enough time because of work, someone will not have enough will to reach the end.
Who is middle? For myself, I realized that a middle designer is not a super guru, he is someone who knows how to use tools, does not screw up and does not ask for help from an art director every 10 minutes. It is with these parameters that you can go to the studios and offer yourself.
Insights:
When you do something, do it until the moment you say "WOW" in your head. Then pause and look again, if WOW remains, then the job is good.
Sometimes, you don t have to sit for hours and come up with the perfect concept for your job. Better to sit down and start doing. Make adjustments along the way, correct something, change, but do.
There are tasks in which you need to shove your ego deeper and just complete the task.
Figma is a great online education tool! It is enough to pump up a little and you can conveniently explain and show everything. And no powerpoint presentations need to be done.
Tips for those who want to take an intensive course
If you are working – take a vacation, time will be wildly lacking;
If you don t like to work hard and strain, this is not for you;
If you have not decided "What kind of designer are you?" try to participate, you will understand a lot about yourself. Maybe you will understand that the design is not yours, which is also ok. But it seems to me that it is better to understand this in a month than in a few years;
Don t be afraid to ask stupid questions and ask again if you don t understand. You paid money for this, you have the right;
Be independent! Try to solve the problem on your own before asking others (this is generally advice on life).
Based on the results of the intensive, I was awarded the middle grade.
Works of all participants – https://www.behance.net/wannabelike
We, with the rest of the guys, have a chat room in which we continue to communicate on all design topics, or advise each other to solve problems in blue.
For me, the most pleasant thing was to receive this message.
Now I work at PINKMAN and I am already applying the skills I learned on the intensive.
Source: DesignKabak
…