We have compiled for you fresh Cyrillic fonts that you can use if you are already tired of the standard Helvetica.
Stylish and friendly serif with Cyrillic, soft outlines and a pleasant vintage character.
There are 6 weights available from Thin to Heavy, as well as italic versions. Ideal for packaging or branding.
---
A soft, rounded script with bold strokes, backslash and alternate characters. Suitable for branding, posters or packaging design.
The typeface is the debut typeface work of Denis Bashev, which he completed with the support of CSTM Fonts.
---
A bold, contrasting serif with sharp serifs and soft oval strokes. The font has good readability and incorporates the best qualities of traditional and modern serifs.
Two weights are available, as well as italic versions.
---
A unique decorative slab serif with Cyrillic, asymmetric serifs and stylized Ukrainian folk art.
The typeface was developed between 1964 and 1967 and was intended for metal casting. The digitized version contains Latin and Cyrillic characters, as well as several ornaments.
There are two saturation and slant versions available. Ideal for projects about traditional Eastern European art.
---
Modern grotesque with Cyrillic, low contrast and geometric shapes.
Available in 6 weights and slanted versions. Suitable for branding, packaging design, typing and other tasks.
---
Delicate cheerful script with Cyrillic and compact signs. Contains the full set of uppercase and lowercase characters.
Great for branding, wedding invitations, menu design and more.
---
Functional balanced sans serif with Cyrillic and a set of icons got italic. There are now 6 straight and 6 italic styles available from Thin to Black.
The font boasts high readability and is specially designed for navigation. Also great for branding, packaging, or typing.
---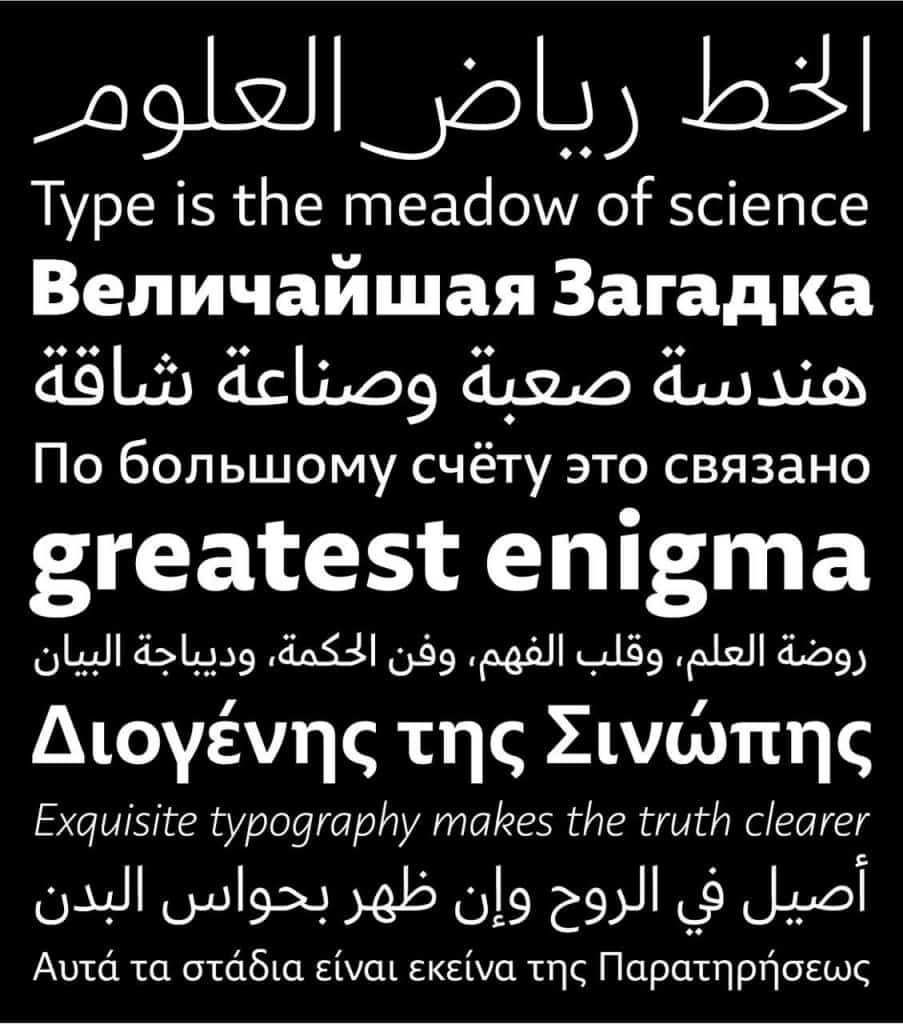 Friendly variable sans serif with Cyrillic and low contrast. The family contains additional versions with support for Arabic and Greek, and is intended for global distribution.
Each version has 8 static styles available from Thin to Black.
---
Variable humanistic sans serif with Cyrillic, high contrast and elegant flared serifs.
The font is perfect for branding, packaging or posters. Contains 8 weights plus italic versions.
---
Stylish variable semi-open sans serif with Cyrillic for a wide range of tasks. Suitable for both headings and typing.
Contains 6 widths from Compact to UltraExtended, and a wide range of weight from Thin to Black. There are 30 static and 12 variable versions available for purchase.
Source: New Fonts
…